What's New | Calendar | Current Exhibition
Education and other programs | Donate | Links

WHAT'S NEW!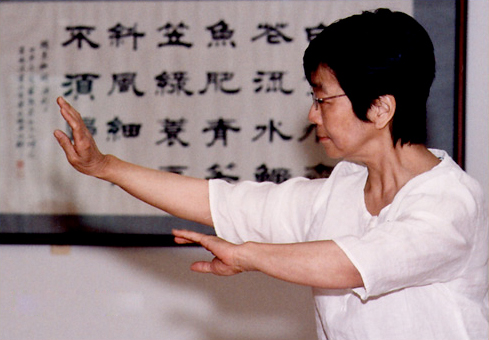 New Taichi Classes by Eleanor Yung
Write for more information: aaacinfo@artspiral.org
The 33rd Annual Asian American and Pacific Islander Heritage Festival 2012
DATE: SAT, MAY 12TH, 2012
TIME: 10AM - 6PM
LOCATION: Archway @ DUMBO, BROOKLYN, Underneath the Brooklyn Bridge, (Water St And Anchorage Pl, Brooklyn, NY 11201)
Festival Admission: FREE!
Website: A/P/A Heritage Festival
Featuring a variety of Folk artists from different backgrounds, traditional artists/crafts people will be giving hands on demonstrations. As for this year, the artists joining Asian American Arts Centre are:
Karen Ahn: Korean Maedeup (Knotting)
Ming Liang Lu: Master paper cutter of portraits
Jampa Youden : Tibetan jewelry designer
Rose Sigal Ibsen : Sumi-e calligrapher
Ye Xun : Dough figurine master artist
Andrew Wang: Chinese tribal textiles & jewellery
Karen K. Ahn: Korean Macreme
Audiences will have the opportunity to interact with skilled folk artists who demonstrate their crafts and will have the opportunity to ask questions, make requests and the chance to learn and delight in the magic of a traditional craft! Go here to read more about our folk artists. This is an ideal event for families. The music, art and performances will delight both old and young alike. See you there this weekend!
[ PRESS RELEASE ] [Event on Facebook]
Lunar New Year Festival 2012
DATE: SAT, JAN 28TH, 2011
TIME: 10AM - 6PM
LOCATION: Children's Museum of Art, 103 Charlton Street, New York, NY
ENTRANCE FEE: $10
******AAAC'S PROGRAM SCHEDULE:******
Zong Li Lu @ 1130am
Kavita Vyas @ 1pm-4pm
Shao Hua Yu @ 1pm-4pm
Rose Ibsen-Sigal @ 1pm-4pm
Ye Xun @ 1pm-4pm
Ming Liang Lu @ 1030am-1230pm, 3pm-6pm
[ PRESS RELEASE ] [Event on Facebook]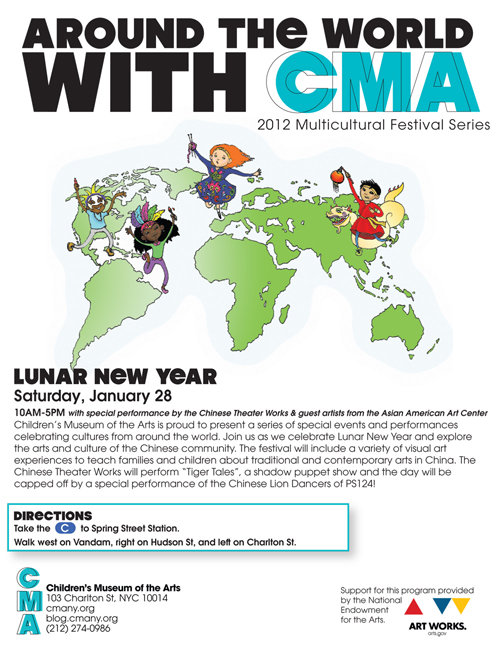 Open Call for Costumes/Art:
Walk in Manhattan's Chinatown Lunar New Year Parade with the Asian American Arts Centre!
Parade: Sunday, January 29, 2012
Starts: 12:00pm (noon)
We would like to show that the arts are alive in Chinatown while celebrating the Year of the Dragon! Help represent the Asian American Arts Centre and show your own artistic creativity by wearing a costume or displaying other artwork and walking with our banner in the Chinatown Lunar New Year Parade. We had a wonderful time last year.
Lets show the arts through creative costumes! Costume ideas or ways to march in the parade with visual material are open to your own interpretation, but lets focus on a slant of positivity, to promote the Asian American Arts in Chinatown, the New York City community and in celebration of Lunar New Year.
*You are welcome to invite others to join us.
*Costumes/art are not required but are highly encouraged.
*Collaborative costume ideas might be a good idea to make a greater impact.
*No political or religious agendas or confrontations
*The parade takes place on January 29, 2011 and participants must be able to arrive by noon at a designated meeting spot (TBA)
*Let's make this a fun time and way to engage in the community through this band of artists.
Please RSVP to this email tlee@artspiral.org ASAP with your name and contact info if you plan on participating. Please also give me an idea of your costume (if you know) and if you will be bringing others with you to march and how many.
You can let me know later what your costume idea is, but let us know if you would like to participate so we can get a count.
More details will follow!!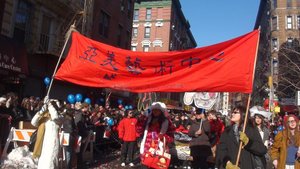 Lunar New Year Parade 2011 Banner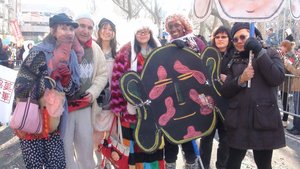 Lunar New Year Parade 2011 Group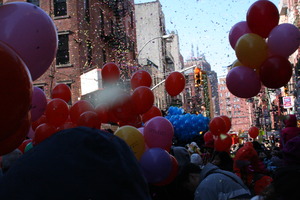 Lunar New Year Parade 2011 Festivities
Leaves folk art by Shao Hwa Yu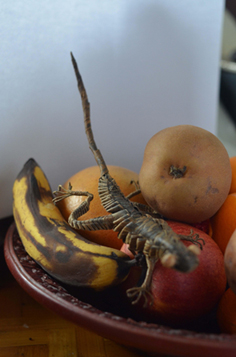 Lizard made of grass/palm leaves by folk artist Shao Hwa Yu. You can often see him on Canal St just below Mott. He is a real master who has acquired many different animals, even recreating some like the Geico gecko. This is a traditional Chinese folk art. Only Chinatown can boast of having such cultural assets on the streets of their neighborhood. Very modest, it may be hard to get him to demonstrate at our next folk art festival, which will be held on January 28th (Saturday from 10-6) This year, it will be a participant in the annual Lunar New Year's Festival at the new Children's Museum for the Arts (CMA) on 103 Charlton St. This location features a state-of-the-art children's center for making art and immersion. There are many classes, but like any other museum, individuals can walk in at any time, stay throughout the day, and make art at the clay bar, the painting room, or stop by the animation room to make feature films. It is quite incredible and very much worth a regular trip, particularly if your children no longer have access to art in their schools. Check it out!
13% and Growing

Meeting on December 8th, 2011. This meeting is called "13% and Growing," a meeting of social coalitions in NYC who have been fighting for the last twenty years to increase funding for social services to Asian American communities. Last year, after an extensive and well-organized campaign advocating with the city council and NYC legislature, they achieved remarkable change, from less than 1% to over 2%. However, this increase still represents a small fraction of the total US dollar for New York state. This is also a new strategy that does not simply increase funding for the elderly or for healthcare, but is also an ethnic strategy that declares that this certain ethnic group needs certain services to be effective. Therefore, advocating as Asians has become an accepted modality. This coalition is now accepting and embracing the presence of art education into their ranks, recognizing that arte education for kids has an impact on the social well-being and the social services themselves for Asian Americans—Asian American art organizations that need funding for their programs can now join and become a member of 13% and Growing and get access to those special funding streams that they have identified. Please contact AAAC so that we can inform you of the next meeting and how you can join and become part of this expansion of available resources to Asian Americans.
Asian American Community March in Solidarity with Occupy Wall Street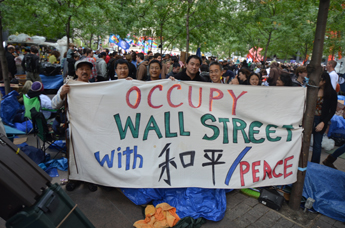 On November 5, 2011, Asian American community members will again demonstrate support for the Occupy Wall Street movement. Community members will start their march at 1:30 PM in front of the Bank of America on Bayard Street and the Bowery and march together to Zuccotti Park on Broadway and Cedar Street in time to join the weekly meeting of Occupy Wall Street demonstrators at 2 PM.
Asian Americans have had a long history of involvement in movements to correct injustices in our society. The Occupy Wall Street movement is bringing much needed attention to the plight of many Americans who are struggling from the economic downturn and the increasing divide between the have's and have not's.
As 13% of the population, Asian American New Yorkers also have much to lose if we as a city and nation continue on this path where budget cuts are decimating safety net services. The Asian American community stands in solidarity to protect the most vulnerable in our society and call for fair share tax reform.
We want to take this opportunity and join with the remarkable people who have stood their ground and be part of the Occupy Wall Street. Join us, join the many individuals who will come to Zuccotti Park tomorrow at 2pm, and who have signed on to endorse this Call for Action!
The path of the march with the banner "Occupy Wall Street with Peace" will be from Bwoery to Worth Street onto Centre Street and Park Row, walking past City Hall Park to Broadway to our destination Zuccotti Park on Cedar Street. We welcome others to join the march from the start or anywhere along the route or at 2pm at Zuccotti Park.
華埠十多華人「和平占領華爾街」
Source: World Journal
Date: October 16th, 2011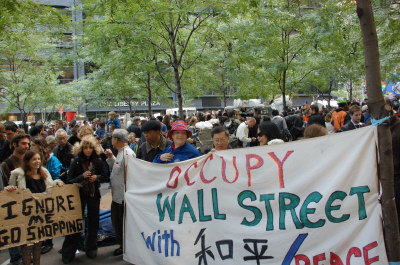 紐約華埠民眾首組團赴會
Source: World Journal
Date: October 16th, 2011
在紐約亞美藝術中心行政總監李振亮的號召下,紐約華埠民眾昨(15)日首次組團赴自由公園,聲援「佔領華爾街」運動,他們打出帶有中文字樣的標語,倡導「用和平佔領華爾街」,在自由公園林立的標語中顯得格外醒目。
這次的組團赴會是李振亮臨時冒出的靈感,組織活動前一天下午才開始進行,但昨日仍然有十多名社區民眾響應號召赴會。在華埠開業的律師潘女士說,美國最大的問題就是分配不公,富人繳稅少,普通人生活不堪重負,而政府的政策又都是偏向富人。她說,自己20多年前來美國,發現這些年來美國的境況不斷惡化,尤其是對新移民。20多年前在華埠,至少還有衣廠等行業讓新移民謀生,現在連衣廠都不復存在,新移民生活更加艱難。至於自己,潘女士說,做律師雖然薪水不薄,但比起華爾街的人就少多了,「我們也是99%的普通民眾啊」。
容閎小學退休體育教師查爾斯.約翰森(Charles Johnson)和太太,第三社區委員會委員安.約翰森(Anne Johnson)一起來參加活動。查爾斯說,自己只是想來看看能在這裏得到些甚麼樣的新發現,結果他發現,「一堵立在白人男子和其他人之間的牆被推翻了」。安說,他們夫婦兩人來參加活動不是自己,而是為讓下一代生活更美好。「我們有孩子,有孫子,如果他們的生活不如我們,我們沒法向他們交代。」安說。
查爾斯和安一黑一白,兩人在60年代的民權運動中結識相戀,他們表示,正因為當年的民權運動改變了美國,他們相信今日的「佔領華爾街」運動也將有同樣效果。
知名華裔社會活動者陳翠芳、陳兆文等都有到場,不過,昨日到場的華裔仍然低於預期。華裔攝影師陳本儒說,也許與華人對「運動」的恐懼心理有關。李振亮則表示,活動籌備倉促,事先也沒有約定好集合地點也許有些影響,不過他計劃將此辦成每周六下午的固定活動,集合地點定在自由公園旁Cedar路中段。他說,希望今後幾周華人的聲勢可以壯大起來,人數充足時更計劃從華埠的且林士果廣場遊行到自由公園。舉「把大公司的手從政府身上上拿開」和「奧巴馬,請把華爾街撕碎」等標語
李振亮在現場宣佈計劃以藝展來促進溝通
Source: Sing Tao Daily
Date: October 10th, 2011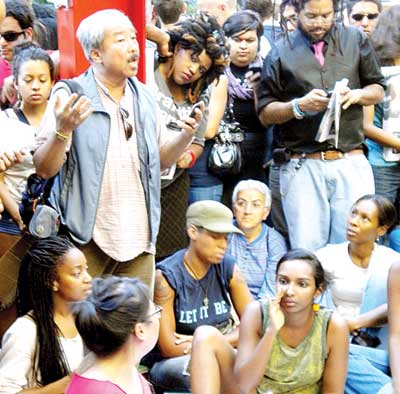 Reported by Rong Di Qing: Grass root activity "occupy wall street" has been going on for over 20 days, more and more Chinese Americans have participated, Robert Lee, the executive of Asian American Arts Centre announced a plan to curate an arts exhibition aims at better communicating among people with different point of views.
Protestors gathered in Freedom park, they voluntarily grouped up based on themes and discussed with each other while sitting on the ground. Robert took the conversation as a group host for a while. His idea about organizing an exhibition on the scene was highly agreed by his group mates. He said, art has no boundaries, everyone can find themselves through art, in addition, the on scene exhibition could effectively address the theme of "occupy wall street", which is communicating through love.
Robert is not a stranger of grass root movements, as one of the anti-war activists in the 60s, he witnessed how grass root activists have changed the country. Robert visited the "Occupy wall street" scene on last Thursday afternoon, and he was very much attracted by the atmosphere. "Grass root movements have success and failious, however it's very much likely to win this time" Robert said. He believes that protestors don't have clear demands this time, which is also the most powerful factor. He said:" many people think US is the most wonderful country in the world, but it has already become a tradition that poor people are constantly exploited and rich people are getting more and more wealth. And it's also harmed Chinese American community's benefits. Therefore, you couldn't claim that protestors don't have any specific demands, in stead of being stupid enough to constantly mention those words, they choose to promote the concept of love which is playing as the hint of this movement to attract more people to join. This movement is mixing the passion in Asian culture into Western's grass root movement. Even if this movement is not able to bring a concrete result, the influence would be far-reaching.
He also mentioned, the theme of love is everywhere in the protest, for example, last time he visited the protest, there were 5 Chinese workers, they don't understand English, it is an American who helped them translating in the end. So the chinese workers not only understood the core mission, they also contributed their own suggestions. They introduced Chinese revolution back in 40s. They also suggest elect a group leader to maintain, organize the protesters and to keep people stick together.
AAAC Artist Archive - Present. Talk. Discuss
Presentation and Discussion
DATE: WED, OCTOBER 12TH, 2011 4pm-6pm;
THUR, OCTOBER 13th, 6p.m. - 8p.m.
LOCATION: Clemente Soto Velez Cultural Community Center (Los Kabayitos Theater)
107 Suffolk St (at Rivington), New York, NY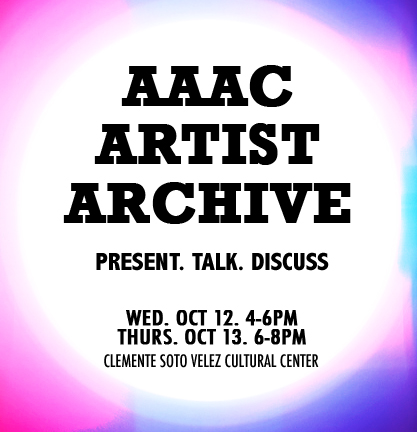 The contemporary art of the last sixty years by Asian American artists exhibited by Asian American Arts Centre will be accessed at this event, particularly during the talk by the curator/executive director Robert Lee.
The AAAC Artists Archive is a research and educational archive documenting the history of Asian Pacific American Artists in the United States since 1945 to the present. Focused on twenty six years of AAAC contemporary art exhibitions held in the Lower Manhattan, it is inclusive of American artists deeply influenced by Asia. Its online counterpart – Artasiamerica.org is a high-quality research tool as well as an innovative educational asset for college and high school students, educators, and community members. Foremost, it features images of the art works of the artists themselves, with written material to support them. Together they enable a direct experience of the art of Asian American artists and the issues and questions of cultural diversity in America.
The event is free. Sit is limited so please come early. AAAC would like to thank Clemente Soto Velez Cultural & Education Center and New York Public Library for making this event possible.
KIM LOO SISTERS: Portrait in Four-Part Harmony Film Screening
Film screening
DATE: TUES, MAY 31TH, 2011
LOCATION: University Settlement's Houston Street Center
273 Bowery, New York, 10002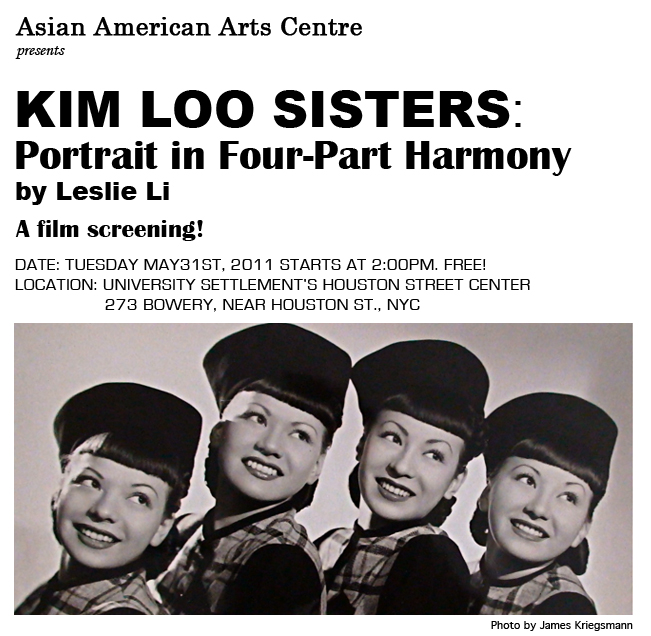 East Coast premiere screening of an hour-long film-in-progress
Join author and first-time filmmaker Leslie Li for a screening of her hour-long film-in-progress -- KIM LOO SISTERS: Portrait in Four-Part Harmony -- a documentary about four sisters -- daughters of a Chinese 'paper son' and a Polish refugee -- who overcame poverty and prejudice to become a popular American jazz vocal quartet in the 1930s and 40s.
Spanning nearly a century, the Kim Loo sisters' recollections include the Jazz Age, when they cut their theatrical teeth in kiddie revues in their hometown of Minneapolis; the Great Depression, which they spent crisscrossing the country following the various vaudeville circuits; and the Second World War, years spent in Broadway musicals and Hollywood movies as a trio when one Kimmie left the act to marry the son of the vice president of China and witnessed the Chinese Revolution first-hand -- but not before her sisters joined the USO to entertain American troops stationed in Europe during the "good war." Their remarkable story -- both on stage and off as well as their lives pre- and post-Kim Loo Sisters -- makes an important contribution to America's multicultural heritage and a persuasive argument for the power of sisterhood.
A discussion/q&a of the film will follow the screening. Light refreshments will be served. Seating is limited, so please RSVP.
This event is free to the public. Please join us from 2 pm – 330pm on Tuesday May 31 at 273 Bowery, Houston Street Center (next door to Whole Foods). AAAC is most grateful to the University Settlement's Houston Street Center for making this event possible.
[ PRESS RELEASE ]
32nd Asian American and Pacific Islander Heritage Festival 2011
Program
DATE: SUNDAY, MAY 8TH, 2011
LOCATION: UNION SQUARE PARK
E 17th Street between Broadway & Park Ave
12pm - 6pm
Organized by the Coalition of Asian Pacific Americans since 1979, this annual festival is the longest running and largest event celebrating Pan Asian heritage on the east coast. This year's festival centers on the theme of the journey that Asian Pacific American ancestors have taken to bring us to this moment. It celebrates not only the value of families, but also our heritage which make us proud to be Asian Pacific Americans. More than 20,000 visitors are expected for an impressive line-up of performances, fun activities for children and adults alike, and savory samples of Asian cuisine. Asian Ameircan Arts Center will proudly present six of our Asian traditional folk artists for the event.
Folk artists: Rose Sigal-Ibsen: calligrapher, Kavita Vyas: mehandi art, Ye Xun: Dough figurine master artist, Jampa Youden: Tibetan jewelry designer & folk singer, Ming Liang Lu: master papercutter of portraits, and Andrew Wang.
[ PRESS RELEASE ]
To Japan With Love
Fundraising Event
DATE: MONDAY, APRIL 4TH, 2011
LOCATION: TENRI CULTURAL INSTITUDE, 43A West 13th Street
DOORS OPEN @ 7:45PM
LIVE PERFORMANCE STARTS @ 8:30PM
A collaboration between Japanese and non-Japanese musicians, Morning MUSUKO was formed in December 2010 by New York City based trombonist Joe Beaty. A funky mix of New York and Japan, Morning MUSUKO is expanding Japanese pop music to a wider and diverse audience while giving J-Pop hits a New York music scene twist. This event on April 4th will feature a live performance by Morning MUSUKO, Una Aya Osato & Akiko n' Nana doing a special tribute song "Tsunami".
Morning MUSUKO is developing a community that actively creates and supports the cross- cultural understanding between Japan and other nations and peoples. Their music seeks to inspire and connect a growing and willing international community to accept and incorporate different cultures, music, and ideas.
Participatory art mural done by Mike Ming and Hiro Kurata will enable personal messages to be sent to the earthquake victims in Japan. All attendees are invited to contribute a message, drawing, or poem on the mural prepared by Mike & Hiro, which will be displayed in Japan.
At the door $11 is the suggested donation (more is welcome) for the March 11,2011 Earthquake and Tsunami relief efforts.
[ PRESS RELEASE ]
BOOM BOX
Exhibition
DATE: MARCH 16 - MARCH 30, 2011
LOCATION: Abrazo Interno Gallery, Clemente Soto Velez Center (map)

OPENING RECEPTION: THURS MARCH 17, 5:00PM - 8:00PM

ARTISTS: Amy Chan, Ming Fay, Jung Hyang Kim, and Hyungsub Shin
Curated by Eun Yung Choi
Featuring four artists who create beautiful visual harmony inspired by nature Boom Box, like the compact portable stereo, overflows with various rhythms and melodies that combine together to create a complex yet intimate visual symphony. The white walled rectangular gallery is transformed into a vibrant celebration of colorful blooms, pods, branches, and burgeoning flora. The exhibition includes intricate multi-layered dreamlike abstractions of Jung Hyang Kim, a fruit-laden lush urban jungle installation by Ming Fay, delicate yet quietly mesmerizing surreal landscapes by Amy Chan, and painted abstractions and delightful wire constructions that straddle the boarder between nature and artificiality in the form of rhizomes and stolons by Hyungsub Shin.
Eun Young Choi is an artist and curator based in Brooklyn. She has an MFA from the School of Visual Arts and studied Museum Studies at City College, CUNY. Some of the venues that she has curated at include Gallery SATORI, Number 35, Arario Gallery New York, Lumenhouse, and the NARS Foundation in New York City and Gallery Factory in Seoul. She has also exhibited her work international in Spain, Germany, United Kingdom, Japan, Korea, and the US.
[ PRESS RELEASE ]
Lunar New Year Folk Arts Festival 2011
program
DATE: SUNDAY, FEB 13TH, 2011 | 1:30PM - 4:00PM
LOCATON: ASIAN AMERICAN ARTS CENTRE
FREE ADMISSION!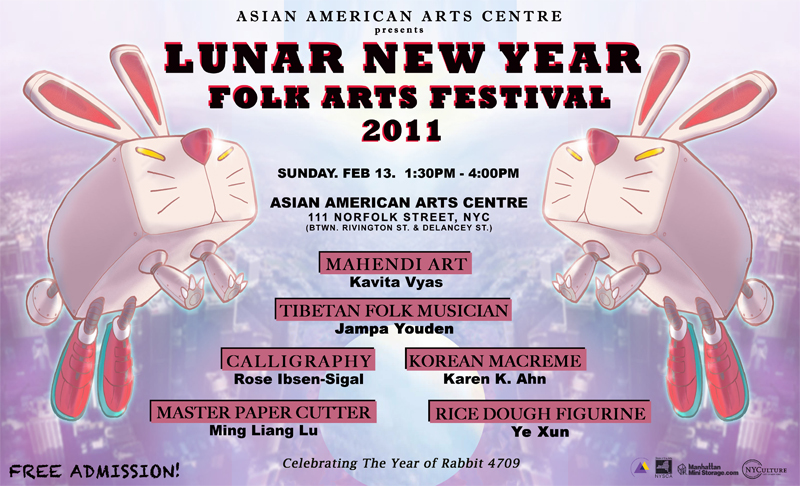 [ PRESS RELEASE ]



Infinite Mirror: Images of American Identity
travelling exhibition
DATE: JAN 25 - MAR 20, 2011
LOCATION: Syracuse University Galleries
Curated by Blake Bradford, director of education at the Barnes Foundation, Philadelphia; Robert Lee, executive director of the Asian American Arts Center, New York; and Benito Huerta, associate professor & director of the Gallery at the University of Texas at Arlington.
This exhibition features 63 multi-media works including paintings, works on paper, photographs and video by culturally diverse artists from across the United States. Infinite Mirror is realized through the collective efforts of Artrain, Inc. and a group of independent curators selecting works of art by established and emerging American artists.
The central theme is the use of portraiture and figuration as symbols for emotional and social ideas. Artwork in the exhibition uses portraiture to depict circumstances and experiences of multicultural populations in present-day America. The artwork is personal, reflective, autobiographical and of a high technical quality, creating an exhibition that is both visually beautiful as well as socially relevant. The exhibition includes the work of first generation Americans and emerging new immigrant artists that examines issues and themes of race, gender, religion, history, politics and family.
Included are such internationally renowned artist as Luis Jimenez, Tomie Arai, Elizabeth Catlett and Faith Ringgold. Infinite Mirror was awarded grants from the Institute of Museum and Library Services and the National Endowment for the Arts. Addition support from MetLife Foundation, the Michigan Council for the Arts and the International Fine Print Dealers Association.
Tuesday Art Classes for Children at AAAC
education
2011 ART SCHOLARSHIP CONTEST!: MON 1/24-4:00pm & TUES 1/25-4:00PM & 5:30PM.

A fifteen week Spring semester of classes will begin on Tuesday February 8, 2010, from 3pm to 630pm at 111 Norfolk St on the lower level, and will focus on children from 6 years old to 14 years old.
The first class from 3pm to 430pm is for 6 to 9 year olds, and the second class from 440pm to 630pm is for 9 to 14 years old. Registration will open in January. Parents can come to register every Friday from 1030am to 5pm at 111 Norfolk St. Tuition is $235 and includes all supplies.
The 2011 Art Class Scholarship Contest will be offered this semester. Now is the time to come register to take the test. Details of the Scholarship Contest are the following: five winners will be granted a one-term or half term tuition waiver. The Artistic Aptitude Evaluation will be given on both January 24th, and January 25th 2011. For time please call 212.233.2154. The winners will be announced at AAAC's Open House event on February 1st 2011 from 4pm to 7pm. The public is invited to attend. Please Come!
____________________________________________________________
All exhibitions unless otherwise indicated was held at Asian American Arts Centre 26 Bowery 3 Fl above McDonalds, in Chinatown, one block below Canal St. New York NY 10013. Gallery hours are M-F 1230 to 630pm, Thurs till 730pm. Current exhibitions and much, much more, are posted on www.artspiral.org For further information call 212.233.2154 or write aaacinfo@arspiral.org
*Important Notice*
Asian American Arts Centre now is located at 111 Norfolk Street, 1st Flr. New York, NY 10002. For more information go to Contact Us
____________________________________________________________
See: addition to Programs Chronology from 2002 to present, particularly the AAAC Story conference materials.

See: Chinese article about Nuo that can be found under Traditional Arts