America's Chinatown Voices
Installation dates: May 9 - August 8, 2009

AMERICA'S CHINATOWN VOICES
" 藝 匯 唐 人 街 "

PRESS CONFERENCE ON FRIDAY MAY 8, 3PM at AAAC 26 BOWERY 3FL

Artists will be present: Nathalie Pham & Avani Patel

Opening Reception at 26 Bowery: Thurs May 14, 2009, 6:30pm - 8:30pm Installation dates: May 9 - August 8, 2009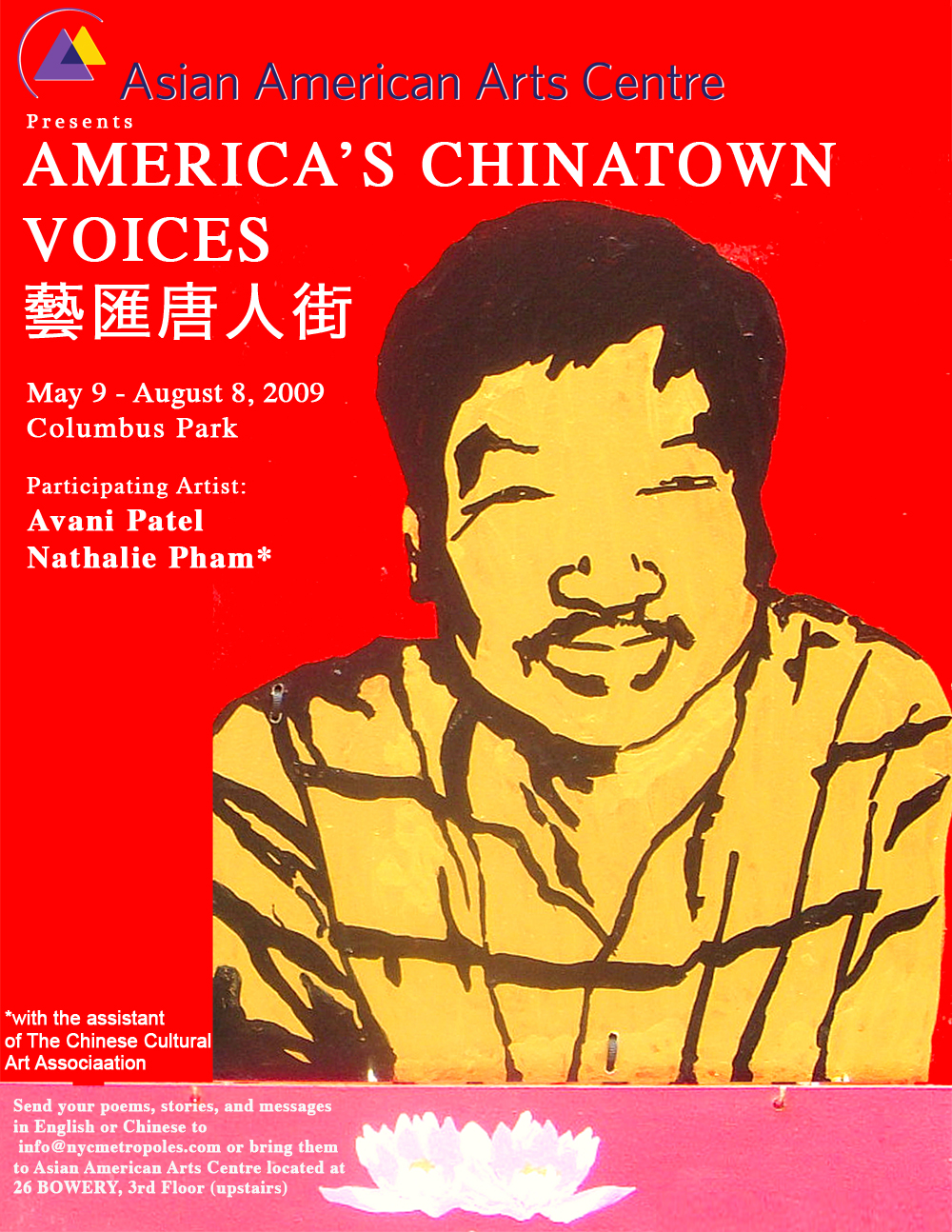 Columbus Park will be the site of a special outdoor art event that will continue through this Summer from May 9 to August 8, 2009. During this period on the fence encircling the entire Columbus Park, artists Nathalie Pham & Avani Patel will install and maintain many dozens of painted panels where community people, children, artists & other New Yorkers can express themselves in writing and painted images. This will be one of the first times people who enjoy Chinatown, who live here and care enough about this corner of New York City, will have the opportunity to speak their mind, or just express their joy so that all in the community and visitors to the park can see and hear what they feel and have to say.
To rouse community support and participation the slogan " 藝匯唐人街 " has been created, which means "A Gathering of the Arts in Chinatown", or "yi wei tang ren jie". This is a rare opportunity for the community to see and hear itself, to create images to reflect itself, and to rally the community to come together and express what is important to them.
From children to seniors, from restaurant workers to doctors, from businessmen to delivery workers, all can participate, in English or Chinese, with images or without. This opportunity is for all to be heard and seen. Those attuned to the choices that face Chinatown are also welcome to write their statements that everyone can hear. These voices, ideas, stories, images and statements will be painted by the artists on wood panels 18x24" around the outside gates of Columbus Park at a distance of 15-20 feet of each other. A total of about 70-80 panels will be installed.
Every weekend throughout the Summer the artists and volunteers will come to repaint many of the panels with new comments and thoughts, renewing the panels. People can come at these times and be able to paint on the panels themselves with the assistance of the artists.
Especially on the first day, on May 9 the artists will attend the installation and invite community members to write their comments on the panels. Or people can send their ideas and words to the artists to be posted later. Each panel will have an email address or phone where the community can send the artists their thoughts and comments to be posted the next week.
Volunteers are welcome and needed, particularly on the weekends, and especially those who are fluent in Chinese writing, to sign up and help to mount this extensive weekly effort. Students can help, those who are handy, or anyone who would like to participate. Contacting the artists is easy by writing to Nat@npham.com or aaacinfo@artspiral.org. Look for updates on www.artspiral.org.
Supporting this effort by assisting with the postings sent in written Chinese is the Chinese Cultural Art Association. Mr S.W. Sang, president of this association and a prominent local businessman, will translate and re-write all submissions sent in written Chinese into beautiful calligraphy every week. So those who wish to write in Chinese need not hesitate to send in their Chinese words. These will be copy correctly onto the panels. Or people can come on the weekends to write their Chinese characters themselves.
This project is a part of the NYC Parks & Recreation's public art program which has consistently fostered the placement of temporary public art in parks throughout the five boroughs. Since 1967, collaborations with arts organizations and artists have produced over 1,000 art projects in City parks, including neighborhood parks, playgrounds, and traffic islands. For more information visit, www.nyc.gov/parks/art. Co-sponsored with CREATE in Chinatown, Inc. with support from the New York City Department of Youth & Community Development and the Office of Councilman Alan J. Gerson.
*More photos of this outdoor installation can be view at AAAC's Flickr album.
*Look for updates at www.nycmetropoles.com!
Directions:
By Subway, B, D, S to Grand Street, J, M, N, Q, R, W, Z, 6 to Canal Street. 4 & 5 to City Hall. M103 or M15 bus to Chatham Square. Columbus Park is one block south of Canal Street and one block west of Mott St. Columbus Park is between Mulberry St, Bayard St, Worth St, and Baxter St. in Chinatown. Get subway directions from hopstop.com.
The Asian American Arts Centre (AAAC) is located at 26 Bowery, 3rd floor above McDonalds, NYC 10013, (917) 923-8118. Gallery hrs. are M-F 12:30 – 6:30pm. Tel: 212.233.2154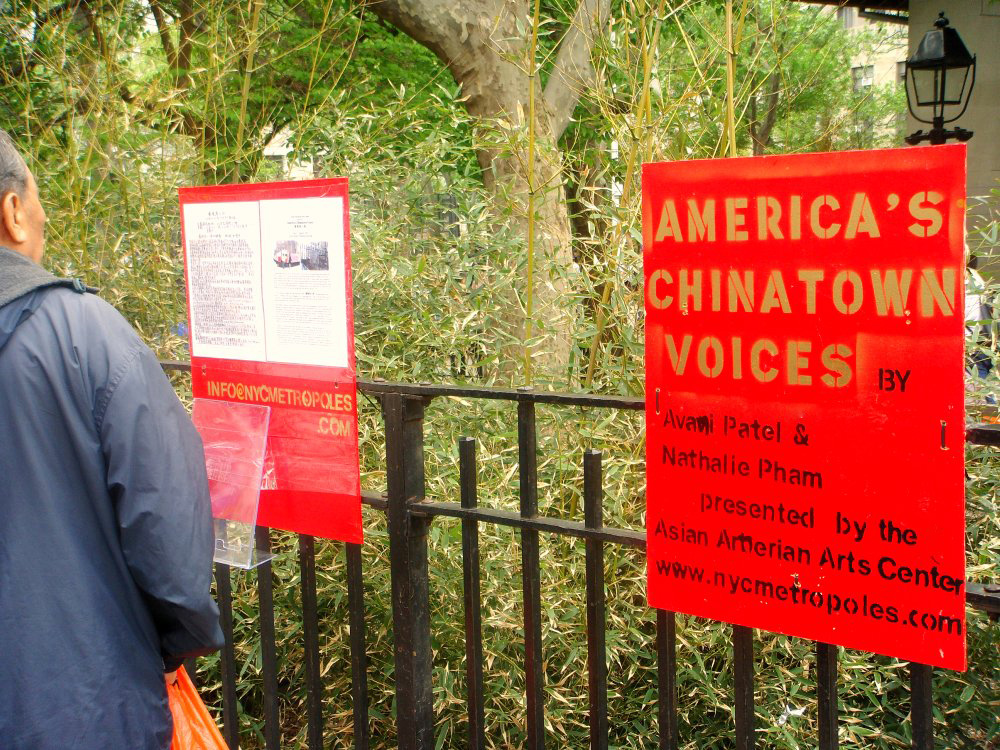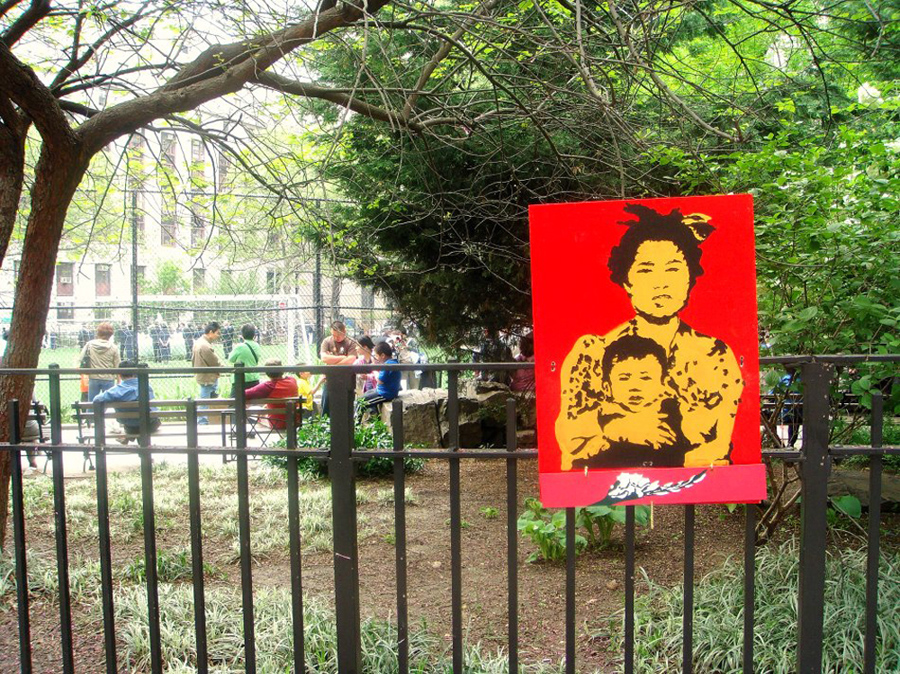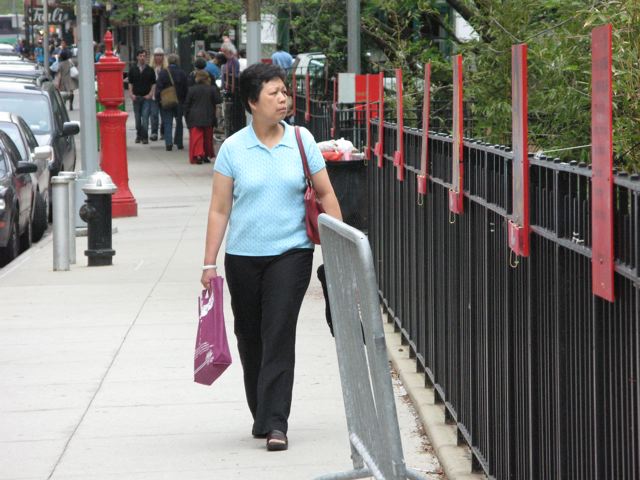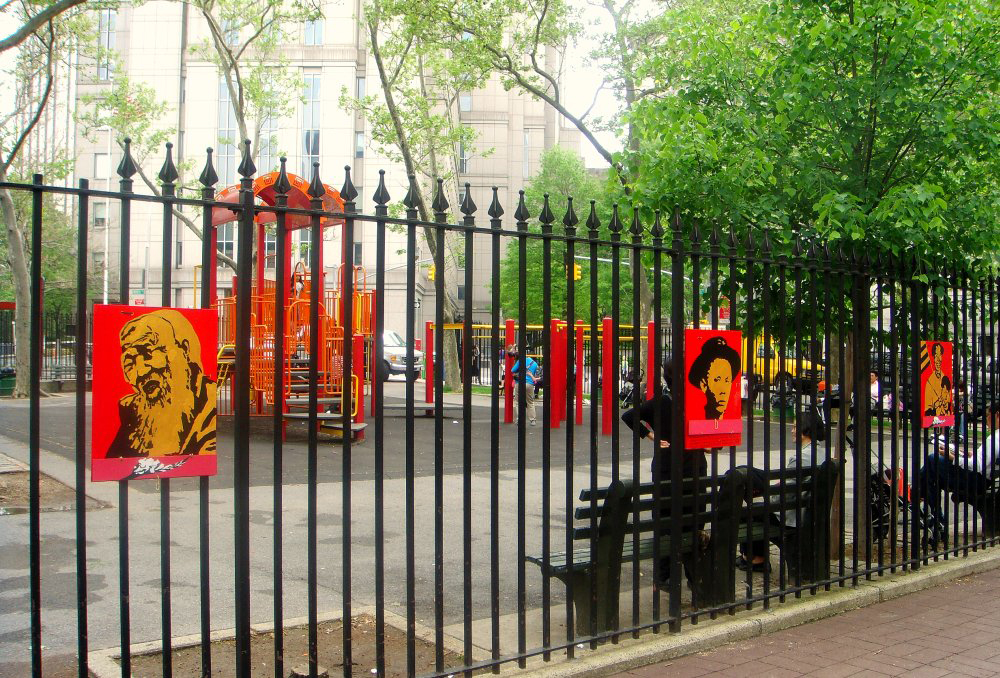 *More images can be view here
[ close window ]